About Our Systems
All our sluices are custom fitted for your location with curves, turns, and drops as needed. These turns and drops serve a dual purpose. First, adding great eye appeal, and second, giving your sluice additional strength. In addition, we utilize a dual water system on Sluice packages. This assures that your customer will always see clear and pristine water flowing from the tower and waterfalls for a great visual effect. We manufacture all our wood products in house at our location in Ohio. We simply take the pre-made products from our stock for quicker assembly and customization to your location. The stainless linings add additional strength and longevity to construction. The system may be easily expanded or relocated to fit changing needs.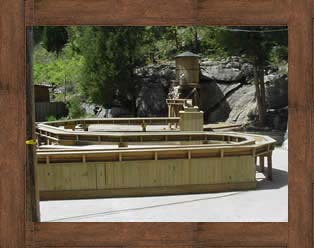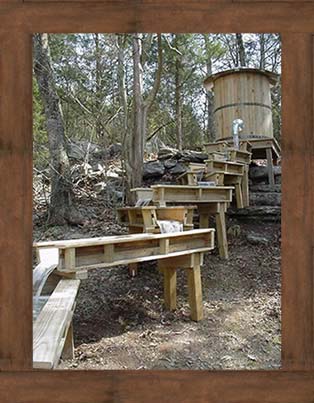 Systems are constructed with pressure treated wood and stainless steel. These systems will last indefinitely with little to no maintenance.
Tank is stainless steel and is designed with a baffle system welded in place for separation of used mining rough and water, making cleaning very easy afterhours.
The sluice uses a closed loop water system. Thus there is no need for a constant water supply. Systems do NOT waste water.
Gem/fossil display and instructional boxes are designed for exterior use with screen print lettering on PVC board, pressure treated frames and safety glass.
Sluices are all double seam construction with tapered walls and large top, manufactured with stainless steel linings and do not leak!
Screen bottom boxes are designed to sit across the sluice. This is very important so children don't have to handle the box while collecting their gemstones.
Pumps are 3/4 and 1/3 horsepower with a continuous duty rated motor, and have a cast iron, anti-clog impeller (110v and 220v available).
All sluice sections and exterior covers of tanks are built from pressure treated wood for long life and great eye appeal.
We hide all traces of waterlines to feed tower. The most frequently asked question will be, "How does the water get there?"
Mining rough and package prices include delivery within a thousand miles of Fostoria, Ohio. Package I also includes installation.
Package II has built in components and arrives in 7 pieces for easy reassembly by 2 individuals in about 2 hours.
Mining Products
Our gem mix contains 20 types of precious and semi-precious stones. All bags receive a wide variety of this gem mix. The method we use to make all of our bags keeps our product very consistent, and we stress to use mining rough of the highest quality to ensure easy identification for miners. All gemstone, fossil, seashell, and emerald bags include postcard, keeper bag, and full color, photo quality personalized labels with bar codes-able to be used on mining rough bags and take home keeper bags.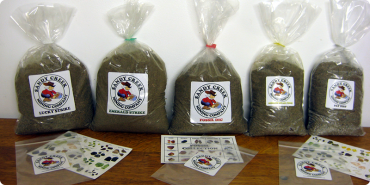 Safety in Mind
All sluices are built with your customer's safety in mind. There are no steps or platforms required. This eliminates any possible tripping hazard. Systems include an area with ADA accessibility. We utilize a proven water treatment system on all sluices to ensure quality to your customers. All systems are wired with ground fault protection.